Moored in dry-dock next to London Bridge, The Golden Hinde is a full-scale and fully operational reconstruction of Sir Francis Drake's iconic ship.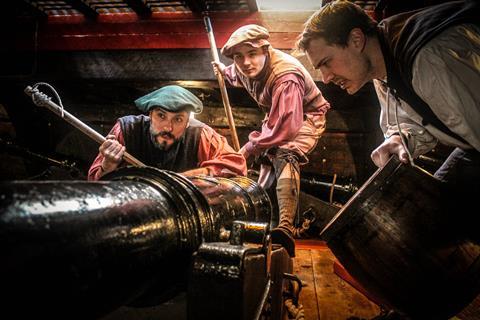 Itinerary: Tudor Maritime Workshop
Provider: The Golden Hinde
Subject: History
KS: 3-4
After its own circumnavigation of the globe, it now operates as a museum with a whole host of educational programmes which cover a range of topics from The Spanish Armada to the 'Golden Age' of piracy.
The Tudor Maritime Workshop is its flagship programme for KS3-4 with a choice of focus on either Drake's circumnavigation or the 1588 Spanish Armada. Led by three knowledgeable costumed educators, students participate in a number of aspects of ship life including sampling rations and navigating with authentically reconstructed equipment. The Tudor Maritime Workshop is good for any group studying the Elizabethans at GCSE level or below. It includes private hire of the ship, and a space to have lunch after the programme.
10am: Arrive at The Golden Hinde where you will be met by one of the costumed educators who will introduce the programme and divide the students into messes.
10.15am: Head down to the gundeck for instruction, before working as a team to tie the hawser to the ship's capstan and raise the anchor.
10.40am: Return to the main deck for a demonstration of either Drake's circumnavigation or The Spanish Armada. With the assistance of interactive maps, the costumed educators will demystify these two pivotal historical events and give pupils the chance to offer their own perspectives on the outcomes.
11am: Students then begin their carousel of activities, moving about the ship and meeting the Navigator, Gunner and Barber Surgeon. These activities provide an in-depth exploration of life on board and its relationship to the wider Early Modern World. Children are encouraged to consider how their new knowledge of the variety of experiences aboard a Tudor ship can colour their understanding of key historical events.
12.30pm: Head down to the dock for lunch.
1pm: Depart.