A "wild camp", cooking over fire, using axes to chop wood and a veto on mobile phones, enabled a group of students to connect with nature and each other.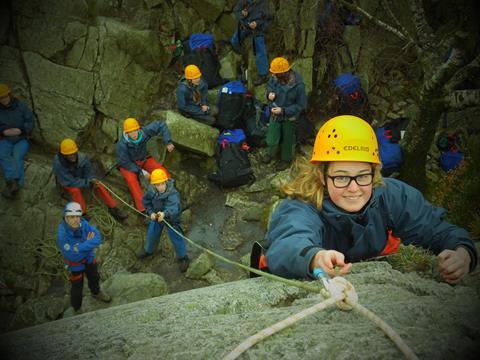 School: Stamford Welland Academy, Lincolnshire
Subject: PHSE
KS: 3 & 4
Number of pupils: 22
The five-day stay at Aberdovey outdoor education centre, one of six sites run by the Outward Bound Trust, had a powerful impact on pupils from Stamford Welland Academy during the residential trip and back in the classroom.
It was organised by parallel curriculum leader Dominic Brister, a big fan of the educational charity that uses the outdoors to help develop young people.
"I have been to Aberdovey for the past three years and also organised trips to other Outward Bound centres at Ullswater, Loch Eil and Ogwen Cottage," explained Dominic. "They all serve different purposes and this specific Aberdovey visit was aimed at challenge and leadership.
"The academy is part of the Cambridge Meridian Activities Trust and I work across other schools in the trust to organise and support outdoor education and learning outside the classroom. On this trip there were a total of 41 pupils from four schools, including Stamford Welland Academy."
He said the "full-on" trip featured packed days that began with students getting up at 6.30am, having breakfast half an hour later and carrying out chores, such as tidying their rooms, cleaning and organising communal areas and preparing equipment for the day, before the first activities at 9am.
Activities included high ropes, waterfall scrambling, rock climbing, jumping off a jetty and being completely cut off from modern-day amenities and distractions and many more.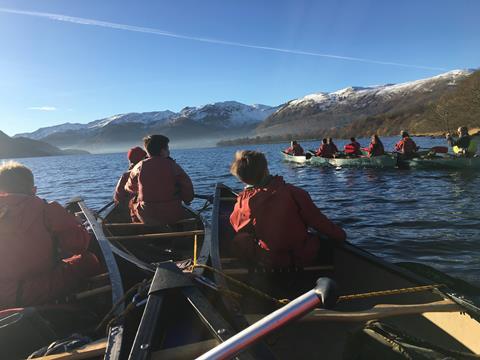 "One day, for example, we set off at 9am and didn't get back until 5pm the next day," said Dominic. "The wild camp in the Snowdonian mountains was a highlight for many of the students. They had to navigate their way and then set up camp and cook over a camp stove, which many of them had never done before. They discovered they had gone wrong with the navigation on a couple of occasions and we had let them go wrong. For many it was the first time they had been allowed to fail and they learned how to get it right the next time."
Outward Bound courses focus on raising aspirations and showing how soft skills and experiences can be transferred back into the home or school environment.
Dominic said their self-awareness grew in leaps and bounds and said the students had to get used to being completely out of touch, which also resulted in a positive outcome.
"We took away their mobile phones which was a nightmare on the first night," admitted Dominic. "However, by day four or five they were telling me they didn't miss them and loved the fact that they did not have the pressure to post things on Facebook and Instagram and were released from the worries and stigma associated with social media."
The confidence they gained from the trip had far-reaching consequences, particular in the case of one student whose attendance record prior to the trip was so low the school attendance officer and educational welfare liaison were involved. He was on behavior report and struggling in many aspects both at home and in school.
"He has not had a day off since the trip," said Dominic. "He said the course made him realise that he was not the only one to feel how he did in the classroom."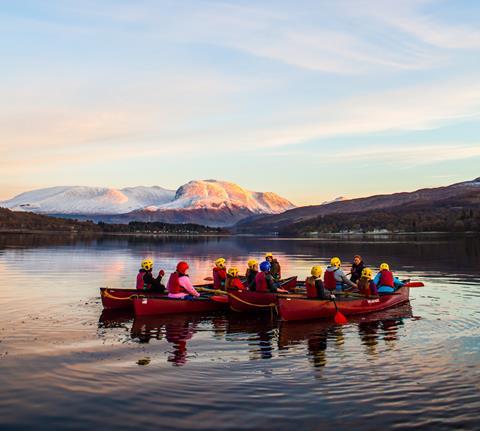 Back in the classroom
A keen amateur photographer, Dominic created a series of photo boards back at school and organises a mentoring scheme for pupils embarking on the trip the following year.
"Students that have been to Aberdovey act as ambassadors and are buddied up with future participants, which is particularly helpful for the ones feeling nervous, they get the chance to demonstrate the values of the school and the trust, Aspiration Resilience and Understanding, and that's great to see in action," he said.
"This year the student from Loughborough University also carried out two follow up visits, three weeks and three months after her visit, as part of her study on transference from the trip and although we have seen the results for ourselves we will be very interested to read her findings."
Useful contact:
The Outward Bound Trust
01931-740 000
www.outwardbound.org.uk