Kim Somerville, interim head of the Council for Learning Outside the Classroom, on using forests and woodland to support GCSE studies, whilst reaping the benefits of connecting your students with nature.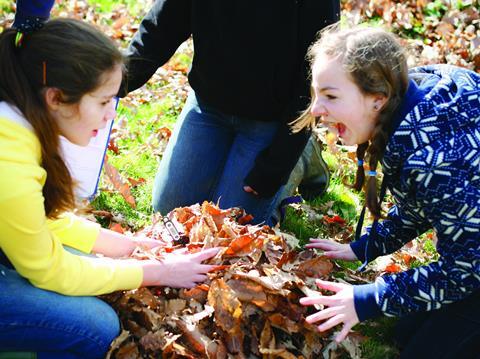 Trees and forests offer a fantastic resource to support young people's learning. Many schools will have some sort of wooded space not too far away, and these spaces are usually free to access.
A visit to a forest or local woodland is an opportunity to put fieldwork skills into practice, explore scientific principles, apply mathematical knowledge, and put classroom learning for all subjects into context, helping to deepen understanding and cement knowledge. It also expands pupils' horizons, making them aware of the many careers available to them in the forestry sector which they might not otherwise consider.

Encouraging an interest in the forestry sector

The forestry sector is very broad, encompassing practical roles managing woodlands, felling and planting trees; conservation work as a forest ranger; scientists monitoring pests and diseases; craftspeople turning wood into furniture, art and other objects; not to mention the many roles in the businesses that rely on wood and woodland. For many, forests are a place of recreation, where they can go to walk, cycle, explore wildlife, and other things, but forests are also a business, providing resources which need to be carefully managed to ensure that we have the wood we need for fuel, building, paper, furniture, and many other products in the future.
Studying forests and woodland management can be used to support the GCSE specifications across the curriculum. There are also many resources available to help you to use woodlands for your teaching. Below are just a few ideas of things you can teach in a forest or local woodland.
Maths
Woods are a great resource to provide a focus for statistics work in maths. The Forestry Commission publishes an annual summary of key data for the forestry sector, including the size and type of forests, employment statistics for the forestry sector, imports and exports of forestry products, and the recreational use of forests. The archive of data goes back to 2000 – giving pupils an opportunity to plot and explore trends over time, and use a range of statistical skills to explore and explain the information. The reports can be downloaded from https://www.forestresearch.gov.uk/tools-and-resources/statistics/forestry-statistics/
Exploration of data in this way can be complemented by pupils gathering their own data as part of science or geography fieldwork activities exploring biodiversity, climate, land usage or other information.
Trees also offer an opportunity to explore the practical side of geometry and use Pythagorean principles to estimate and measure the heights of trees, and discuss how these skills might be used by forest managers when planning how to safely fell a tree and understand where and how the tree will fall. The Field Studies Council provides a useful guide on different methods of measuring the height of the tree: www.field-studies-council.org/media/246126/methods_of_measuring_tree_height.pdf.
Get your students to measure several trees using the techniques identified, and then discuss how these methods demonstrate Pythagorean geometry.
Science
Woods are of course a fantastic location for biodiversity studies. Start by undertaking a biodiversity study of an area of woodland to develop students' fieldwork skills. Take the activity further by getting pupils to think about the competing demands of different species – including humans. Undertake the study in two different areas of the wood – one which is managed and one which isn't, or one where fallen trees are left to decay on the forest floor. Talk to students about the role of a woodland manager – or invite someone working in forestry management to speak to students about their role. Encourage students to think about the positive and negative interactions which humans can have within ecosystems.
Geography
Woodlands also offer a wealth of opportunities for pupils to develop their fieldwork skills in geography, as well as explore some of the concepts in the GCSE geography specifications.
Students can explore and map a patch of woodland, identifying and marking different tree species, and noting different environments. Within one forest, there can be more than one ecosystem; deciduous and evergreen trees can support very different animal and plant life. Students can find out, by observation, research, and talking to forestry staff, how humans have modified and changed the forest in order to obtain food, energy and water resources. There could be links here with the history curriculum as they explore how forestry management has changed over time.
For human geography, students can explore the recreational use of forests, and how this sits alongside environmental and business concerns for those involved in forestry management.
History
A forest could be the focus of a depth study for history. Students could explore how technology has changed overtime in timber production, and compare it with the increase of technology in other areas.
A piece of woodland could also be the focus of the historical environment study. Few woodlands are completely natural – what evidence can we find in woodlands of historical changes and upheaval? For example: the remains of charcoal burning pits; former roads and pathways; even a change in the types of trees being planted can tell us something about the relationship between the place and historical developments. You could also explore the relationship between woodlands and industry – trees and charcoal provided the fuel for the industrial revolution.
English
Forest education can offer much to support students' GCSE English studies. Many of the ideas outlined above point to the opportunity for debate and discussion about the management of forests. Students could use the information gathered to take part in a debate about forestry: what are forests for? Are they a resource for humans, or a home for wildlife? Can they be both? Which concerns should be uppermost: profit, preservation or conservation? Students could also write an article putting forward their view on the future of forestry which exercises their skills in organising ideas and putting together a cohesive argument.
To find out more about how to make the most out of your learning outside the classroom experiences book your place on The Annual Learning Outside the Classroom Conference, which takes place on Friday 22nd November at Black Country Living Museum in Dudley. This year will focus on the theme of 'Maximising value from LOtC'.
Visit www.lotc.org.uk for more information.
Image: Woodland Learning (Photo Credit: Field Studies Council)