Take your pupils to learn about the water cycle at the London Museum of Water & Steam.
Itinerary: Water Filtration Day
Provider: London Museum of Water & Steam
Subject: Science
KS: 1&2
Did you know that we drink the same water as the dinosaurs? Your pupils will think about the water cycle and how we make our water clean enough to drink, before digesting it, turning it in to wee, and sending it off into the water cycle yet again.
The attraction is a historic pumping station built in 1838, the year after Queen Victoria came to the throne. It has the largest surviving Cornish Beam engine in the world, a real monster of the Industrial Revolution. This is where boilers and engines were kept going 24 hours a day for nearly 100 years to provide clean water to Londoners as far as Paddington and Marylebone.
Pupils will see for themselves how water can be cleaned using natural resources in a hands-on water filtration experiment.
10:00am - 10:30am: Arrival at the Museum. You will be met by the Learning Coordinator at the entrance and taken to the Babcock Room where bags and coats can be dropped off. Pupils are then welcomed to the Museum in the Steam Hall and reminded of health and safety. They learn that the Museum was a pumping station and are encouraged to think about what that means, and what kind of engines pumped clean water to Londoners.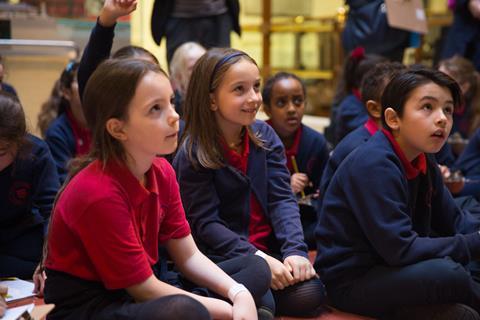 10:30am - 11:15am: Guided Tour. Pupils are taken on an engaging and interactive tour of the Museum and helped to understand how the steam engines work. Year 4 plus can be taken up to the top of the biggest steam engine in the world to see the giant beam. There are opportunities for questions and answers.
11:15am - 12:00pm: Water Filtration session. Pupils will think about the journey of a drop of water through the human water cycle and the problem of overpopulation in Victorian London, polluting the Thames. In groups of four, they will work together to plan and build a small water filter and test it out with dirty water. Pupils will enjoy comparing their results and decide which filter worked the best and why.
12:00pm - 12:45pm: Lunchtime. Your class is welcome to have lunch in the Babcock Room, the Steam Hall, or even outside in the courtyard or garden in lovely weather. Bin bags are provided.
12:45pm - 1:15pm: Splash Zone. Your pupils will be thrilled by the chance to pump water at the outdoor Splash Zone water table. There's an Archimedes screw, a water wheel and a mini replica of our standpipe towder to try out. No change of clothes necessary, but children are advised to roll up their sleeves.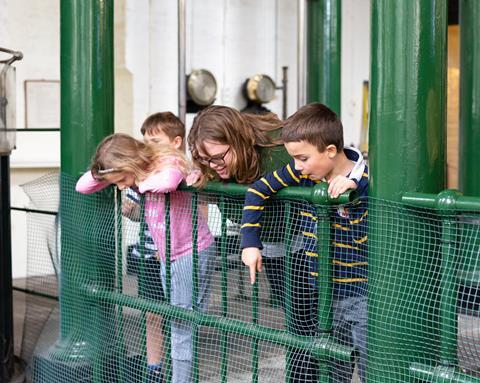 1:15pm - 1:45pm: There will be an opportunity for some free time, when pupils can return to their favourite part of the Museum in small groups with their adult.
1:45pm - 2:00pm: Summary and goodbye in the Steam Hall.
The museum reviews what the pupils did and what they learnt, before pupils get ready to leave the Museum.
School trips are fully hosted between 10am and 2pm and include all materials. There is free coach parking, lunch spaces and toilet facilities. Only one school will be on the site at a time, so your group are guaranteed full attention.
Teachers are welcome to come for a free pre-visit. This particular itinerary is for a class of 30, and the museum can accommodate a maximum of 60 (two groups of 30).
Contact information:
020-8568 4757
www.waterandsteam.org.uk