Outdoor adventure specialists, Inspiring Learning, are encouraging more children to engage in outdoor activities as a way of helping to reduce the nation's rising stress levels.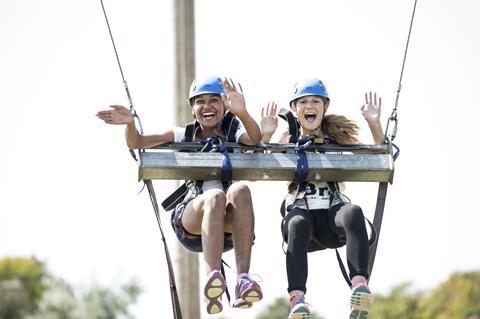 Inspiring Learning has more than 40 years' experience in providing outdoor experiences for young people through different bases, including Camp Beaumont, the UK's largest day camp provider for children, along with Kingswood, which offers residential activity breaks for schools.
After more than a year of different lockdown restrictions and reasearch suggesting that children are three months behind in their learning, many of Inspiring Learning's providers have had their say about what needs to happen in the future for young people to make up for lost time.
Steve Anderson, head of activities at Kingswood, said: "It is vitally important that we avoid the notion that they must 'catch up'. Instead, children must be given the opportunity to get outside and engage in fun activities to help them feel like children again."
"Children have been under enough stress over the past year and have had immense pressure placed on them. Being stuck inside for so long means they have missed out on social bonding and having fun with their friends."
"Outdoor activities help children alleviate stress by gradually building the face-to-face connections they've been missing out on. Giving children this time to have fun and connect with their peers is vital to helping them readjust to normality."

Steve Anderson, head of activities at Kingswood.
"The activities on offer help to build the confidence of children and give them a sense of pride in their abilities. It's not everyday that they get the chance to go canoeing, abseiling and fencing for example, and it's the shared sense of accomplishment that comes with these activities which is so invaluable to children.
"Outdoor activities not only help to reduce stress levels, but also improve skills such as teamwork, leadership, confidence and resilience. By spending time outdoors with peers, carrying out activities such as those on our camps and residentials, children can discover their full potential."
A much-needed break
Another recent study revealed that the mental health of children in particular has been adversely affected by the lockdown. The most common pressures mentioned were around loneliness and isolation, along with worries about school and a breakdown in routine.
Jof Gaughan, executive director at Camp Beaumont, suggests that as we approach the school holidays, it's vital that these feelings of stress and anxiety do not become normalised for children, and encouraging them to engage in outdoor activities could be the answer.
He said: "There have been studies that have uncovered the numerous benefits to mental health in being outside in nature. The benefits range from alleviating stress, anxiety and depression, through to improving self-esteem confidence and mood.
"Being active outdoors not only helps to shake off the stresses of everyday life, but it also has the added benefit of improving fitness levels, which has its own positive effects on mental wellbeing.
"With our camps reopening over the holidays, we're prioritising the mental wellbeing of children and making sure they're given the opportunity to let off some steam. The activities we offer are pure escapism and help children to have fun with their friends free from the pressures of everyday life."