Jon Clarke, shadow headteacher at Walsall Academy, reflects on an Outward Bound winter residential in January, challenging his pupils' physical and mental strength while powering through Storm Brendan.
School: Walsall Academy
Subject: Cross-curricular
KS: 3
Number of pupils: 12
Sorry to burst everyone's bubble but I believe that a winter residential is better than a summer one. In the last 14 years I have completed more than 150 winter residential courses. In January, I took a group of 12 Year 8 students - all who find school a challenge and need to engage in learning - to Outward Bound at Ullswater to complete a five-day adventure and challenge course with the added extra night on expedition.
This is a trip I have run for many years and was given the nickname "the dalmatian course" as it was my 101st one at Outward Bound. What I did not envisage is that our canoe expedition in Storm Brendan would become a mountain walk and challenge event.
"I was allowed to sleep out under the tarp snuggled up in a warm sleeping bag looking at the stars. It was the most amazing night I have ever had."

Dan, Year 8
Our group spent the first night at the centre and then headed off to pick up canoes and set about paddling and camping at several sites around the lake. Within three minutes of the first paddle going into the water the instructional staff and I made the decision that this was a no go.
We then huddled the students around us and explained why, what choices we had and made a collective decision about a way forward. An hour later we set off walking a low-level path in the now torrential rain and strong winds, but the students felt empowered, happy and also had a sing-along while we walked.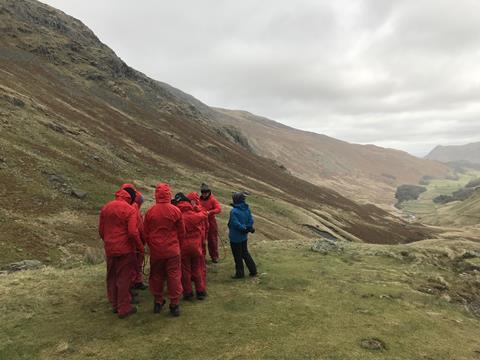 For the next two days we followed a path and camped in the wild, setting up tarps overnight to create a group area, while also learning camp craft and self-management - all amazing life skills. However, the children kept asking if they would still be able to ghyll scramble (travelling up or down a gorge, jumping in pools, sliding down slides, traversing rock pools, climbing waterfalls and generally having fun in the water) on the Friday morning because the weather had been so bad.
Jon's four reasons to choose a winter residential:
1. Finance: You can often get better deals in the winter so making every penny go as far as possible is an incentive.

2. Opportunities & challenges: You never know exactly what you are going to get with a winter trip and it is a great learning curve for the students to see staff being dynamic decision makers and involving them in the process of designing their visit and evolving it.

3. The sense of achievement: I speak to one of my students who has had many negatives in his life on a regular basis and he has developed his resilience and character from a winter residential.

4. Being a group: It gets dark earlier in the winter, so the group naturally comes together. This creates a much better group identity and sense of community.
After three days of battling the wind and rain and the students eating more than their fair share of sugary items, we arrived back in the centre for a shower. Most were still smiling, but over the following hours, the children just wanted to head back out and camp once more.
Luckily for us, the children's wishes were granted as the course ended with the challenge of climbing waterfalls in a swollen beck in the Lake District. Winter provided them with the opportunity to learn, adapt, fail and then find a new way forward. I do not believe that the resilience shown by them in the five days would have been developed in the same way at any other time of the year.
If you've got a fantastic school trip to share and want to be featured, get in touch with the editorial team by emailing editorial@schooltravelorganiser.com or calling 01908 613323.