George Peters, outdoor education and Duke of Edinburgh (DofE) coordinator at Bohunt School Wokingham reports back on the Bronze expedition.
School: Bohunt School Wokingham, Reading
Subject: Outdoor Education
KS: 3
Number of pupils: 104
In the third year of Bohunt Wokingham opening, it was the first opportunity we had to launch Bronze DofE, as our original Year 7s were now in Year 9. 100 out of 158 students had signed up to the Bronze DofE award in January when it was launched which truly shows the impact of the growth mind set, culture and the importance outdoor education has on our students.
After training staff and parent volunteers, of which only two individuals had ever been on an expedition, as well as a number of after school sessions of student training, we ran two full practice weekends - to Newlands Corner and Bentley Copse in Surrey along the North Downs Way. The students completed their practice and training in very good time after going through many trials of getting lost and learning how to navigate their way back to their correct paths.
"It was a once in a lifetime experience and we enjoyed almost every moment. There were some hardships and wrong directions taken but we made it, in the end."

Jamal, age 14
On the 8th/9th June the qualifying expedition began at Alice Holt in Surrey. From here the students began their journeys to Garner's Field campsite in Tilford, putting all that they had learnt into practise and making sure they went through the checkpoints; they were all in very high spirits and excited. On 9th June they began their second day and made their way to Devil's Punch bowl in Hindhead, with a very challenging finish over four large hills into Marchant's Hill PGL camp.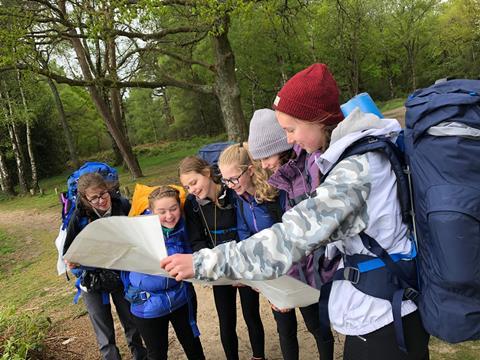 We launched DofE due to the large scale impact it has on the students, the life lessons learnt from the team work, leadership and resilience they develop through the expeditions and many more attributes. It was about getting them more involved in all areas of their life.
"After hiking roughly six hours on the Saturday (around 15km), we reached our campsite and although we got lost, we ended up being the first group to reach it!"

Alice, age 14
DofE has been linked and reinforces the curriculum in many ways, from the increased uptake of extracurricular activities and developing the leadership and coaching ability of the students to learning and developing their map reading skills in Geography as well as species identification, ecosystems and habitats in Science and in Food Technology. There have already been reports from staff that they have seen an improvement in the attitudes and amount of effort being put in around school by a number of students since they began working towards their Bronze award.
The Bronze award was open to all students no matter their experience, behavioural background or financial circumstance and costs were kept down as much as possible.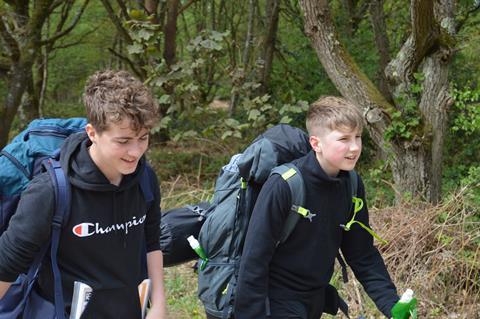 Once back at school we met as a group to recap the skills learnt, as well as developing and reflecting on the lessons learnt and seeing the interest of doing Silver DofE. We have asked the students to complete a Google forms survey to gain a reliable measure of impact and a factual base. When all assessors met with their teams and with me, it was reported that all the objectives had been met. We have already noticed a difference in a number of students, their attitudes, interactions with others and how they are dealing with the more stressful challenging tasks/situations.
About Bohunt and links to D of E
Bohunt Wokingham school is part of Bohunt Education Trust (BET). BET is a high-performing family of seven schools based in the South of England, with a pioneering approach to education. The Trust was selected to host the recent DofE annual 'Insights' event to reflect its sector leading approach to outdoor education and learning.
BET's vision is to ensure there be no barrier to outdoor education and as such, the Trust has committed to enabling the most disadvantaged and vulnerable students to participate in DofE.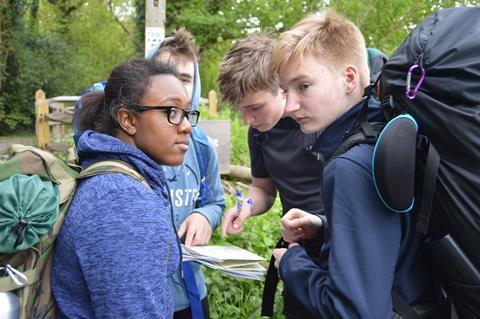 This academic year has seen one of the largest ever uptakes of the programme across BET, with over 800 students participating in the award. 640 students successfully completed the Bronze Award, with a record 150 achieving the Silver Award and 20 students attaining the highly esteemed Gold Award.
As part of BET's overarching commitment to ensure that all pupils, regardless of background or starting point in life, have the opportunity to fulfil their potential, the Trust ensures that all pupils can access the DofE Award programme and the benefits it generates. As a result, the Trust has raised over £15,000 in grants this academic year in order to directly support some of its most disadvantaged and vulnerable students to participate in the programme.