New Bradwell School visited the Caldecotte Xperience in Milton Keynes for a programme of challenges and activities suited to all abilities, which included crate stacking, canoeing, climbing, abseiling, caving and bush craft.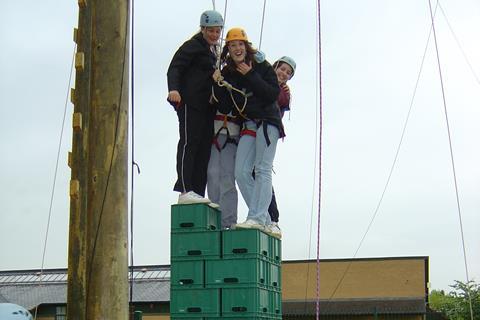 The Caldecotte Xperience (TCX) in Milton Keynes offers a wide range of activities for schools on both land or water. Offering residential and day visits means it can tick the budget-conscious box for staff and parents, yet still provide an experience that enriches the curriculum.
Run by youth charity Action4Youth, pupils will be able to see advantages extending beyond the experience itself.
New Bradwell School, based itself in Milton Keynes, choose to use the experience to develop two particular groups of pupils – those in Year 6 heading off to new schools, and those in Year 2. Year 6 students stay for a week's summer residential while Year 2 students visit for consecutive days in spring.
Phil Webster, head teacher of New Bradwell School, who spoke about the most recent visit for his Year 2 pupils, said: "I really believe in the outdoor experience for children. We always look for a place that puts our children first. We choose Caldecotte mainly because of the staff here – they're great with our children and provide the support that we want for lots of different needs that we have across our school."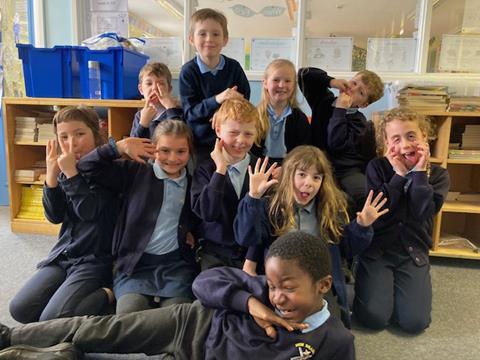 What did the students get up to?
Essential lessons in life and learning came from all the activities on the trip including crate stacking, canoeing, climbing, abseiling, caving and bush craft according to Phil. The head teacher says he sees that as essential development to equip his students for the big changes ahead, adding: "Our pupils are taught skills for life that will enable them to face new situations with confidence."
Year 2 pupil Alameen, who took part in the trip, said he felt the experience improved his confidence: "The rock climbing, I managed to get right to the very top. It's frightening and my legs wobbled a lot but I still did it," while eight-year-old Alice said the toughest but most rewarding challenge was "canoeing when you have two boats tied together and you have to get across a valley without trying to fall in. I was so proud of myself for not falling in, I know some wanted to but I really didn't and I managed it all ok."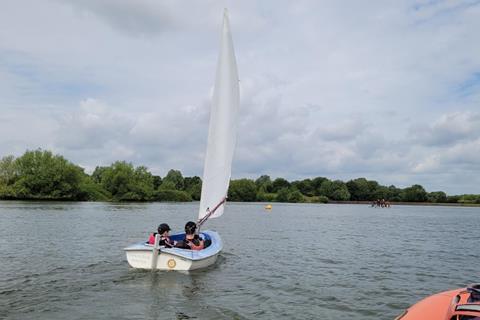 The crate stack activitiy was Mavea's favourite. She said: "I was so scared, you have to climb up loads of stairs then just drop. I actually had goosebumps because I was so nervous, then you realise you can actually do it. It's so much fun."
Trixie agreed and said: "I loved that one, you're waiting for your turn and it's getting closer and closer, so you just get more and more nervous. It's all about team work, helping other people and working together. It shows you that you can't do everything on your own and it's all about facing your fears."
"It shows you that you can't do everything on your own and it's all about facing your fears."

Trixie, New Bradwell School pupil
Finally, fencing turned out to be a surprise choice for Joshua, who added: "I didn't have a clue what that was going to be, I thought it's bound to be something boring like actually painting fences so I was shocked."
Equality, opportunity and high-quality training are said to be the keys for staff at Caldecotte, enabling every child to take part in their activities. Rich Wyatt, head of centre said: "All the equipment and staff training is here to allow everyone to access the outdoors. If you have an able child and someone in a wheelchair, they can still take part in the same activity, say powerboating, or sailing, or climbing as well.
"Schools from across Milton Keynes, Buckinghamshire, Oxfordshire, Northamptonshire, Hertfordshire, Cambridgeshire and Bedfordshire find we provide an excellent way to get their children outside, working together and building friendships in an environment that is safe but challenges their will to succeed."
Back in the classroom
Year 3 teacher Anna Musial said: "Back in the classroom we're talking about it regularly. We use it to say remember when you thought you couldn't do that at Caldecotte and then you did, or talk about teamwork. It's a fantastic experience and one every school should do".
For more information about school visits to the Caldecotte Xperience in Milton Keynes, or details on how Action4Youth can help your school, go to www.action4youth.org.