Robert McIntosh shares his top tips for booking a successful ski trip. So if you're feeling overwhelmed by the prospect of organising one for your students, read on.
You love skiing? You're passionate about making sure your students have all the best opportunities? You want to organise a ski trip but feel daunted by the prospect and aren't really sure where to start? Don't worry, at Interski we speak to loads of teachers every year who are just setting out on this path.
We've also had schools travel with us for nearly 40 years and through our own knowledge and the feedback we've gained from experienced party leaders, we know exactly what you need to do and when you need to do it. We're here to guide you every step of the way.
1. Don't be daunted
First and foremost, organising a ski trip takes some work – it can't be denied. But everyone will have an incredible time and the work you put in means students reap huge benefits in their personal development. It's more than worth the investment of time and effort. Booking with a specialist ski tour operator gives you a safe pair of hands and a wealth of experience to help you through the process.
2. Get permission
It might sound obvious, but your trip's not going anywhere unless you seek permission from the right people at school. In some cases, it might help your case if you've already got some information together such as outline quotes and lists of inclusions.
3. Decide on dates of travel
If you can, travelling during term-time is generally a much cheaper option. Not only does this make a ski trip more accessible, it normally means students will get a better experience as everywhere will be much quieter. If your school will only allow you to travel on holiday dates however, you'll need to act quickly as this is peak time. In any case, we recommend you have at least 12-18 months lead in to the trip to ensure there's plenty of time to promote and maximise interest. And don't rule out the Easter holidays if you think it's too late in the year – snow in the Alps can last well into May.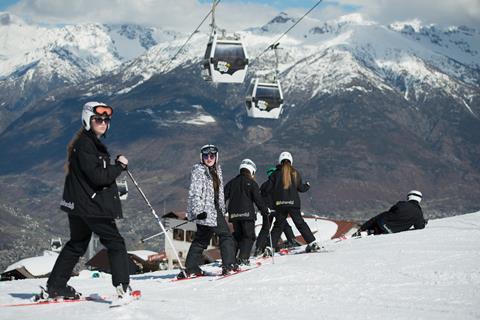 4. Choose a tour operator
There are quite a few specialist school ski tour operators out there so choosing the right one for you can be difficult. We suggest the best place to start is speak to colleagues and fellow teachers at other schools who've run trips to see if they can recommend anyone and equally let you know any to avoid!
5. Do your research
Aim to speak to a shortlist of two or three operators to get a feel for them as a company and what they include with their packages so you can compare and contrast. Don't be afraid to ask questions, no matter how trivial it may seem – you're the one who's running the trip, so you need to be comfortable with everything.
6. Choose a resort
The most important thing is to choose a resort that suits the needs of your group. Will you have mainly beginners? Are there any students with additional needs? Will you be travelling early or late season when snowfall may pose a problem? Take your time to think about what's important and make sure you discuss this with your shortlist of operators to see what they recommend, but make sure you do your own research as well.
7. Get quotes
Your school may require you to get 2-3 quotes, but regardless, we'd recommend you do this anyway. Don't be driven by price alone as the old adage 'buy cheap, buy twice' didn't come from nothing. Ultimately, it's value you're looking for, so make sure there's a decent list of inclusions as ideally you don't want students to need to take anything other than some spending money. This also makes your life easier as if everything's laid on, there's less for you to worry about.
8. Make the booking
You've got permission, you've researched operators, decided on the date, chosen your resort and picked the best quote. All you need to do is pick up the phone and make the booking. Bon voyage!
Robert McIntosh is the managing director at Interski which has over 38 years' experience in delivering school and college ski packages. Find out more at www.interski.co.uk/schools