We've rounded up some of the best castles for school visits to help bring history to life by exploring dungeons and grottos and taking part in bespoke guided tours –there are even costumes to try on.
1. Leeds Castle
Previously a palace used by Henry VIII and his first wife Catherine of Aragon, Leeds Castle in Kent provides educational sessions, workshops, talks and tours for pupils from EYFS and Key Stages 1 to 5. Expect themed workshops, self-guided visits and fun-packed itineraries which bring the history of the castle to life. Schools can visit inside the castle to discover almost 900 years of history, including Tudor life and the 1920s.
There is also the opportunity for children to have free time discovering the twists and turns of the maze, the underground grotto and playgrounds. Self-guided visits are also available and include a teacher's information pack.
2. Warwick Castle
One of England's finest medieval fortresses, Warwick Castle offers a raft of educational attractions and live entertainment for school groups of all ages as part of its year-round educational programme. Pupils can witness more than 1,100 years of history come to life across the castle's many educational attractions and live entertainment that is part of its year-round educational programme.
3. Skipton Castle
Said to be one of the most complete and best preserved medieval castles in England, Skipton Castle has overlooked the North Yorkshire market town for over 900 years. Students can explore every corner of the castle on a school trip, from the depths of the dungeon where prisoners were kept when awaiting trial at York Assizes, to the Banqueting Hall, Kitchen, Bed Chamber, Privy and the top of the Watch Tower.
School group tours are accompanied by experienced guides who also offer talks spanning many areas of the curriculum, including discussions on building materials and techniques, the Household and its servants, as well as medieval and Tudor architecture.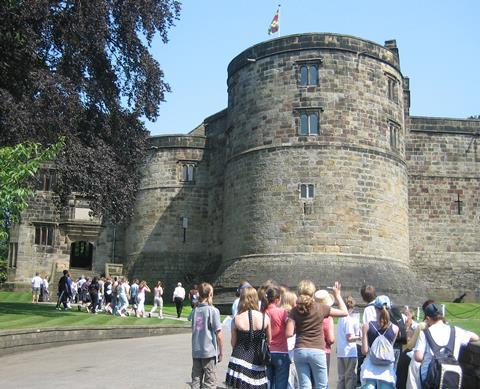 4. Carisbrooke Castle
Carisbrooke Castle on the Isle of Wight has been an artillery fortress, king's prison and a royal summer residence. Schools can opt for self-led visits, such as climbing the steep steps to the top of the Norman keep. Or expert-led discovery visits allow students to immerse themselves in the history of the castle through hands-on learning activities including role-play, object handling and trying on costumes.
Curriculum links include:
KS1 History – similarities and differences between ways of life in different time periods
KS2 History – a study of an aspect or theme in British history that extends pupils' chronological knowledge beyond 1066
KS3 Geography – understanding the strategic importance of the castle.
5. Cadw Castles
The castles of Edward I in North Wales – Beaumaris, Caernarfon, Conwy and Harlech – are part of a UNESCO World Heritage Site and each has a story to tell. Schools can book interactive workshops at each castle, delivered by Big Heritage on behalf of Cadw, and which are available in Welsh and English.
School visits are led by a character from the past whose stories have been uncovered during research into the history of each castle. The characters take pupils on a journey into the dark and mysterious past and children will be encouraged to get hands on with history through smell, object-handling and role-play.
6. Hever Castle
Dating back to the 13th century, Hever Castle in Kent was formerly the childhood home of Anne Boleyn, second wife of Henry VIII and Mother of Elizabeth I. A visit to the castle and gardens offers schools an informative educational history trip and pupils can learn not only about what's inside the castle but about its restoration, too.
Teachers can choose to book a private guided tour, a free-flow visit, or include a workshop or pre-booked interactive audio guide for children.
A visit falls into two categories in the national history curriculum: a local history study; and a study of an aspect or theme in British history that extends pupils' chronological knowledge beyond 1066.
7. Raby Castle
Built in the 14th century by the Nevill family, Raby Castle in County Durham is suitable for both primary and secondary schools. As well taking part in bespoke guided tours, students can also experience the Deer Park and Walled Garden.
Schools can benefit from a picnic area in the park as well as the Servants Hall in the Castle which is available for packed lunches during the winter months. The Woodland Adventure Play Area is also available for children aged six and over to use and is a good way to fit in some exercise before returning to school.