Inspiration for your next Science-themed trip, from planetariums to museums and galleries.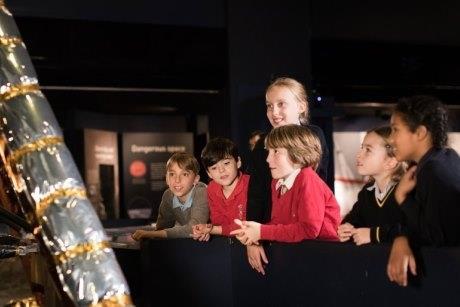 According to research by Tomorrow's Engineers, which is led by the country's engineering community, it has been estimated that two million people with STEM skills will be required by 2020 to support demand in the workplace.

A Science-based visit can help inspire and fuel a passion for the subject that could last a lifetime. Here are just 7 ideas for starters:

1. London's Science Museum

The museum has always been a magnet for school groups and there are a selection of activities on offer for KS1-KS4.

For example the Fantastic Forces Trail leads your pupils on an exploration of the exhibits in the galleries that link with the topic of Forces. Written as a tool for teachers, each page of the trail presents a different exhibit with information and activity ideas to help pupils discover more about the objects and the science behind them.

www.sciencemuseum.org.uk

2. Cleveland Ironstone Mining Museum, North Yorkshire

The museum stands on the site of the first mine of its kind in the area and offers school groups the chance to experience life underground as a miner. Visits can be combined with various engaging KS3 workshops such as Mighty Metals where pupils explore magnets and electricity with Victorian physicist Michael Faraday.

They learn about steel production and follow the forces learning trail in the mine before discovering the issues faced by trains in the Cleveland valley by operating the museum's working model.

www.ironstonemuseum.co.uk

3. Observatory Science Centre, East Sussex

The centre provides hands-on Science and discovery amongst the atmospheric domes and telescopes on the former rural site of the Royal Greenwich Observatory. Workshops for KS2-4 include Explore Your Universe to help students investigate new topics and broaden existing knowledge.

Using a range of intriguing equipment not usually available to schools, it allows young scientists to deepen their understanding of subjects such as magnets and fields, electrons and charge. For KS4 there is a session on solar physics to enhance the GCSE curriculum with the opportunity to use a sun spotter and solar telescope to detect sunspot activity.

www.the-observatory.org

4. National Space Centre, Leicester

With six interactive galleries, the UK's largest planetarium, and a 140ft rocket tower, the National Space Centre promises schools an out of this world experience. The absorbing sessions include a KS3 and KS4 team building workshop where groups work in separate teams to deal with a possible earth impact from a threatening object heading towards the planet.


The KS2 workshops include Mars Lander during which students' engineering and design skills will be put to test as they build a parachute for a Martian probe.

www.spacecentre.co.uk

5. Life Science Centre, Newcastle
The centre offers more than 100 stimulating curriculum-linked STEM workshops including the Meet the Scientist programme giving pupils a unique chance to quiz scientists on how they got into their chosen field and what their work involves.

Sessions for KS3 include testing a variety of household chemicals to discover if they are acid or alkaline. Students begin the workshop with a clear, colourless liquid and carry out experiments that result in a variety of colour changes and other exciting reactions.

www.life.org.uk

6. We The Curious, Bristol

Previously known as At-Bristol, the attraction provides a wealth of opportunities including a downloadable programme for primary and secondary schools that can be used as a springboard for Science studies. It offers theme days to provide a really immersive experience and for KS3 and KS4 the Is There Anybody Out There? day allows students try out the methods scientists use to detect earth-like planets and use spectroscopy to look at those which are habitable.

KS2 sessions include Forensics Academy, which is designed to engage students in the world of forensic science and Innoventions which involves hands-on fun with levers, pulleys, cams and gears.

www.wethecurious.org

7. Magna Science Adventure Centre, Rotherham

The centre, located in the former Templeborough steel works, examines the region's steel heritage and much more in a hands-on environment. Downloadable resources help teachers plan visits to the awe-inspiring complex that is divided into four areas focusing on the elements of air, earth, fire and water.
Main image: London's Science Museum.