Here are six STEM related schools trips that are designed to galvanise the world's next Lovelaces, Hawkings and Musks.
There's no getting away from the fact that there's a STEM (Science, Technology, Engineering and Maths) skills crisis in the UK. STEM Learning, a provider of STEM education and careers support, reports that there's already a shortfall of 173,000 skilled workers within STEM-related businesses across the country.
So how can you inspire the next generation to want to pursue a related career? Giving them hands-on experience of the subjects and showing them how the topics make a difference in the real world can help with these attractions:
1. The Silverstone Experience, Northamptonshire
This £20 million museum opened on the site of the racing track at Silverstone in October and offers school visits for all key stages. Pupils have a 4,000 square metre exhibition to explore, where they can learn about both the historical and engineering aspects of motor sport. Then they can get hands on in the Tech Lab, where they can carry out tasks like adjusting the settings on a scale wind tunnel to understand aerodynamics and trying out pedals to compare the force required to slow down an F1 car compared to a family car. STEM-linked workshops are also available to book on topics from Forces to Motion.
2. STEM Crew, Portsmouth
Located inside the HQ of the British sailing team INEOS Team UK, STEM Crew Portsmouth is an education space that's been set up to teach pupils STEM subjects using the principles and concepts of sailing and yacht racing. Visits include time exploring an interactive exhibition, where pupils will find out how the INEOS team is preparing for the Americas Cup race. Teachers can then choose from a list of nine workshops. Options include Wings, Sails and Wind Tunnels, Cutting Edge Materials, Carbon Cycle and Hull Shapes, Floating and Sinking.
3. Aerospace Bristol, Bristol
Schools visiting Aerospace Bristol have an interactive exhibition full of aeroplanes, helicopters, missiles and satellites to explore.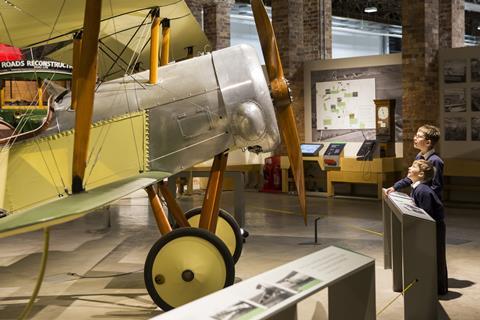 Then they can head to the site's fully equipped learning space to take part in a STEM workshop. Sessions are available for all key stages and options include supersonic sound, rocket design, 'Mission to Mars' coding experiences, and a session that looks into the economic implications of the decision to ground Concorde.
4. STEM Discover Centre, Hertfordshire
Developed in partnership with Airbus and LEP, the STEM Discovery Centre was set up to inspire Key Stage 2 and 3 children to consider a career in STEM. There are three zones in the education centre – a creative zone where pupils take part in presenter-led activities, an exploration zone, where students can explore subjects like space, energy, materials and forces through a range of hands-on exhibits, and an inspiration zone where children can discover how STEM subjects link to careers as well as look out over the Mars Yards test area. This is where Airbus engineers are testing prototype rovers for the ExoMars project.
5. iFly Indoor Skydiving, countrywide
There are iFly Indoor Skydiving locations in Manchester, Basingstoke and Milton Keynes and all of them offer Wind Workshops linked to the STEM curriculum. Sessions are available for both Primary and Secondary pupils and include two simulated skydive flights in the wind tunnel, an hour-long workshop, and a model making sessions where pupils design and build wind-powered vehicles, which they then put to the test on a purpose built racetrack.
6. The Big Bang Fair
Taking place from 11th to 14th March 2020 at Birmingham NEC, the annual Big Bang Fair is a huge celebration of STEM. There are more than 100 workshops, shows and activities to experience and, for the 2020 show, there will be a STEM playground and a Careers Cabin. Hot topics up for investigation at the 2020 fair will be plastic waste and how STEM will play a role in the future of food production. Workshops, meanwhile, range from how to make a bath bomb to space ballet.