We want to hear who, what and where is best for educational visits, if you know a 'School Trip Champion', and whether your trips could win £1,500 for your school.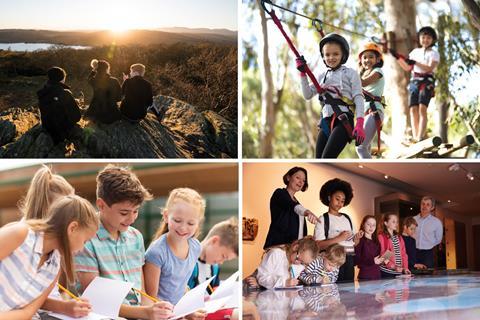 Amid such challenging times, it's even more important to spread some cheer. Let us support the many people, attractions, venues and tour operators who make learning outside the classroom possible. Because, when school trips resume, we'll need them more than ever, and so will the children.
Voting is now open for this year's School Travel Awards and we want to hear from you about what and where should receive recognition for delivering exceptional experiences for school trips.
Maybe you have had a particularly memorable school trip and received fantastic service from a tour operator. Or perhaps you visited an attraction in the UK with your class which left a lasting impact on all involved.
There are 18 award categories in total and you can now cast your votes in 15 of them including telling us who should win Best Venue for English Learning, Best Residential Provider or Best Heritage Venue. See our full Category Guide to find out more about each award and what we're looking for.
Who can vote?
Anyone involved in organising school trips and learning outside the classroom experiences can vote, from teachers to educational visit coordinators, but you must work for, or represent, a school. Votes will not be accepted from companies or providers.
The deadline to vote is Friday, 3rd July, 2020.
Searching for the Education / Learning Team of the Year
We're looking for an education / learning team who have offered fantastic provision, great support and excellent outcomes. Nominations are welcome from teachers and staff at providers (although not the team themselves).
We're asking you to consider how a team might have helped keep the costs down for schools, how they met proposed learning objectives, whether they provided an inclusive programme, and how you evaluated the impact of the trip/workshop. The deadline for this category is Friday, 3rd July.
'My Best School Trip' Award - win £1,500 for your school
Have you been involved with a school trip that stands out? Did it have a real impact on those involved? Enter it in this award to be in with a chance of winning £1,500 for your school.
The 'My Best School Trip' recognises outstanding school trips that give children a rich and rewarding experience, achieve a range of objectives and help embed learning back in school and is open to teachers of Key Stage 1 to 4.
If you could put the prize money to good use for a future trip, download an entry pack and find out more. Previous winners have found the award has helped to further improve its learning outside the classroom and its interaction with providers.
The deadline is Friday, 3rd July.
Who is your School Trip Champion?
Do you know someone who helps make outstanding school trips happen and who embraces everything about learning outside the classroom? If so, nominate them and the school could win £1,500.
This accolade rewards an individual who goes above and beyond to organise exciting and educational trips and lead the way for learning outside the classroom. As well as recognition, it comes with £1,500 towards a future school trip.
The deadline is Friday, 3rd July.
Last year's winner was Jamie Kelly, deputy headteacher of Chantry Primary Academy in Luton. He was described as "an amazing teacher who raises the aspiration of his pupils by giving them incredible life changing experiences".
Watch the video review from last year's Awards Lunch and Ceremony…
When will the winners be revealed?
The results of the School Travel Awards 2020/21 will be announced during the ceremony currently scheduled for Friday 13th November.
Comedian Tim Vine is co-hosting this year's ceremony.
Individual tickets and private table bookings can be made by clicking here.
A big thank you to our 2020/21 Awards Partners…