With the UK boasting plenty of theme parks and attractions, schools are spoilt for choice when it comes to finding a thrilling educational school trip.
These five theme parks offer fun days out for school groups, but also provide them with that little bit more…
1. LEGOLAND® Windsor Resort, Berkshire
Popular with schools, this theme park features plenty for youngsters to get involved in. From LEGO® theme rides to workshops, a visit can be both fun and educational. New for 2019 is the LEGO® EcoPower workshop, which will see students build their own LEGO® Wind Turbine, capable of actually creating electricity.
Another new workshop this year is Science of Rollercoasters, suitable for Key Stage 2 and 3 classes, which gets pupils to build and design a rollercoaster made out of LEGO® exploring how forces work.
2. Chessington World of Adventures, Surrey
Pupils can climb aboard a pirate ship, let their feet dangle above the treetops or prepare for a soaking as they move through the park's ten themed lands, trying out over 40 rides on the way and seeing animals in the zoo. The Gruffalo River Ride Adventure is based on the popular childrens book The Gruffalo by Julia Donaldson, and can be tied in with Literacy studies.
Accompanying this ride, workshops are available such as the Gruffalo Creative Characters session, suitable for Key Stage 1 groups, which lets pupils explore the secrets of creating a memorable character and how they can be brought to life both in the books and on the ride.
The ride can also be tied in with the Habitats workshop which links Science and lets pupils spot the different animals featured on the ride and explore their habitats and how they would adapt for the wild.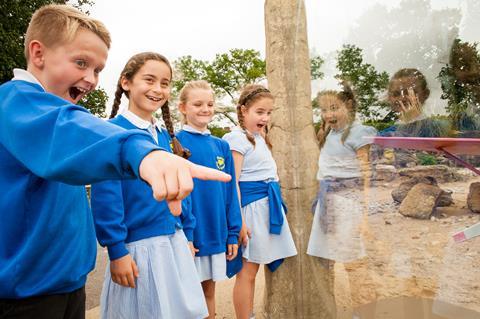 3. Alton Towers, Staffordshire
With over 30 educational talks and workshops to choose from, and special educational events held across the year, a visit to Alton Towers can make for a perfect day out for the thrill seekers in your class. Students can brave Oblivion's vertical drop before engaging in workshops suitable for Key Stages 2-5.
Primary classes can take part in talks and workshops such as Hideous Histories – an Interactive Local History Study at the new Alton Towers Dungeons, tying in with History and suitable for Key Stage 2 groups. This workshop, at the new attraction at the park will let students learn more about the local history.
For older pupils the 'Becoming Chosen - the psychology of a rollercoasters' talk introduces students to the psychology principles used throughout rides to create immersive experiences.
4. Thorpe Park, Surrey
Experiences at Thorpe Park don't end with riding rollercoasters as a number of workshops to accompany a visit can be booked here too. This is a great choice for a school trip linked to STEM (Science, Technology, Engineering & Mathematics) learning to as well as Business, Computing and Design & Technology, among other subjects.
The Design & Technology: Structures workshop teaches students about the properties of materials and their performances when used in structures such as buildings and rides. Meanwhile, a Marketing talk teaches children about the importance of market research and target markets to deliver quality products to customers.
5. Drayton Manor, Staffordshire
Situated in the heart of the Midlands, Drayton Manor Park has more than 100 rides and attractions to discover, including an immersive 4D cinema. Not only does Drayton Manor feature thrilling rides and Thomas Land, suitable for younger children, it also boasts a zoo which can be visited as part of your school trip, to teach children about different animals and their habitats.
Besides this, workshops at the theme park incldue Animal Encounter and Dinosaur Discovery for Key Stage 1; Marvellous Magnets and Creative Coasters for Key Stage 2; Theme Park Science and The Adaptations of Life for Key Stage 3; and Customer Service and Human Resources for Key Stage 4 and 5.