Andy Wright, headteacher at Bablake School in Coventry, explains how a residential experience motivated his students to push boundaries by trying new and challenging activities.
A few years ago, after Birmingham City Council disposed of Ogwen Cottage (an outdoor centre in Snowdonia) Andy Wright, who won the 2021 School Trip Champion Award and is now headteacher at Bablake School in Coventry, researched outdoor centres in Wales as options for school residentials.
Based on these visits, his school decided to work with Arete Outdoor Centre which is located near Llanberis at the foot of Snowdon. Originally Worcestershire's outdoor centre, it now runs as a non-profit company. One of the reasons for deciding to use Arete was that they offered a bespoke programme based upon the needs of the group and additional instructors stay with groups throughout a trip, which means it is easier to build upon previous progress.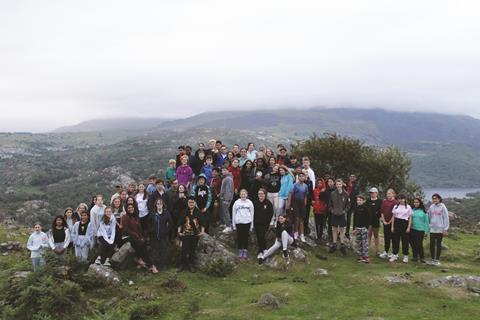 Andy takes up the story: "That now seems a long time ago as I have since moved school, became headteacher and we have all faced the challenges of a global pandemic.
"One of the consequences of lockdown, is that young people have missed out on many of the activities that take place outside the classroom, including sport and school trips. These are a key part of growing up and teach pupils important skills, such as how to work together, crucial knowledge about the world around them and an appreciation of what they can achieve.
"Trips are also an opportunity for pupils to meet and work with pupils from other year groups and thanks to 'bubbles' this has been something that hasn't happened during Covid."
In between the first and second lockdowns, Andy says he managed to arrange some day trips for students to canoe down the Severn, which was one of the highlights of that period. However, he was aware that students could achieve so much more on a residential trip and was pleased to find them back on the agenda in the summer.
The school initially booked to take a group of about 30 pupils away during the summer holidays but found that parents shared their concerns about what young people had missed out on during lockdowns – in the end, more than 70 signed up.
"I think the long summer holidays are a great time to take a school trip because it encourages pupils not to forget everything over the break including how to interact with one another. Parents also like it because it helps with childcare while they are at work," Andy says.
The school deliberately arranged the transport to leave at 8am on the Monday morning and return around 6pm on the Friday to make things as easy as possible for parents. And so it was, in August, that Andy and a group of teachers and students found themselves travelling by coach and two minibuses to North Wales.
Andy adds: "I am lucky to be supported by a superb staff team who gave up some of their break to help on the trip and I deliberately slightly overstaffed our visit so that everyone could have a day off if they wished – nobody did!"
What has helped your school embrace more learning outside the classroom? We'd love to hear from you and share with other teachers, get in touch by emailing editorial@schooltravelorganiser.com
Two pupils, Josh who is now in Year 9, and Sophie, now in Year 10, describe some of the activities and what the residential experience meant to them.
For Josh, Year 9, going on residential trips with friends and peers is arguably one of the best aspects of being a pupil at Bablake and when the chance to go on the trip to North Wales arose, he says it was hard to turn it down.
"After the four-hour drive, we quickly got ourselves organised and went to the nearby Lion Rock for an afternoon of climbing," says Josh. "After guidance and constructive feedback from each other, we managed to get up to the top of the mountain.
"Our next activity was to go an evening walk – it was refreshing to see the beautiful landscape of North Wales.
"We completed many activities over the five days and one of my favourite was going into a slate mine in Rhiwbach Quarry. While manoeuvring our way through the mine, we were told about how slate was formed, what it's used for and how it was extracted. We also heard about some of the social aspects of mining in North Wales.
"It was then time to jump into a small boat to abseil our way over to the other side of the mine where we had the experience of eating our packed lunches underground! One of the reasons I enjoyed this so much was because it was unknown what lay ahead of us; every footstep held a new and exciting challenge.
"After guidance and constructive feedback from each other, we managed to get up to the top of the mountain."
"Another activity was being set the challenge of steering our way through a gauge with many waterfalls – otherwise known as gauge scrambling. While swimming to the next waterfall, it was rather amusing when we came across a rock, lying in the water, where our group of nine was given the challenge to all squeeze onto the rock, with many people falling off!
"As the week drew to a close, we had participated in many different activities and it was a highly enjoyable week with the opportunity to try new things and conquer our fears."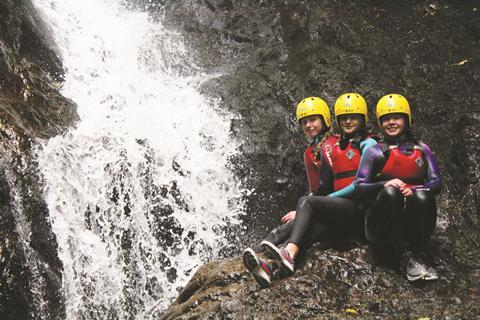 Sophie, Year 10, says that the residential gave her the chance to work and bond with fellow students who she wouldn't usually spend time with.
"The range of activities gave us opportunities to try several different things, such as paddle-boarding, mining and gorge walking," she says. "Each of the activities was different and so much fun.
"One of the highlights of the trip was the coasteering. We walked and climbed along the sides of the cliffs which had some stunning views, and jumped into the sea several times. I absolutely loved it; especially getting to jump in from the taller rocks. Everyone encouraged each other to try the higher jumps and were all so supportive.
"It was such a wonderful experience that really allowed us to bond with each other. One of the most diverse activities we did was mining, which was educational and interesting. Learning about slate mines within the environment of an actual mine made the experience far more immersive and engaging.
"It was an activity that I had never tried until going to Arete, and I really loved getting to try something so out of the ordinary and new."
"Having been given the opportunity to try several unfamiliar activities also allowed me to discover several hobbies that I had never previously known I enjoy, such as paddle-boarding which I now absolutely love. All the activities were completely different, so I really felt as though the trip was worth every minute.
"Sharing this experience with my friends made the trip even more enjoyable. It was brilliant to be able to spend time with people outside the classroom doing such an exciting and adventurous range of activities."
At the end of the trip, the teachers asked pupils what they would tell others about the trip and one of the answers that stood out for Andy was: "Go, because you'll try things you've never done before and it will show you that you're capable of more than you think."
For more information about residentials at Arete Outdoor Centre, call 01286 672136 or visit www.aretecentre.co.uk