Teacher Helen Ford from St Aidan's Academy, Skelmanthorpe, reports back about a terrific trip with her class in Yorkshire.
School: St Aidan's Academy, Skelmanthorpe
Subject: STEM (Science, Technology, English & Maths)
Number of pupils: 31
As an experienced reception teacher and mum to an eight-year-old boy, hands on experiential learning is at the forefront of my mind when planning education for my class of four and five-year-olds. I am passionate that children of any age should learn through real life experiences. When planning my 'People who help us topic' I always factor in local trips to the library, fire station, church, supermarket and of course look to our local amenities. We are blessed to have just ten minutes down the road - Kirklees Light Railway.
"The engine was really warm and I could pretend I was driving."

Pupil comment
KLR is run by a team of professionals and experienced volunteers who are passionate about trains, their history, the workings of a steam train - not to mention their extensive knowledge of the railway. As a parent I have spent much time with my son getting to know these lovely people. They have given him opportunities to ride a steam train, understand how the steam engine and the diesel trains work, tour the engine shed and ask lots of questions. They also provide fun days out with Thomas the Tank Engine, Easter Eggspress, Halloween train, Santa express and a steam rally weekend throughout the year.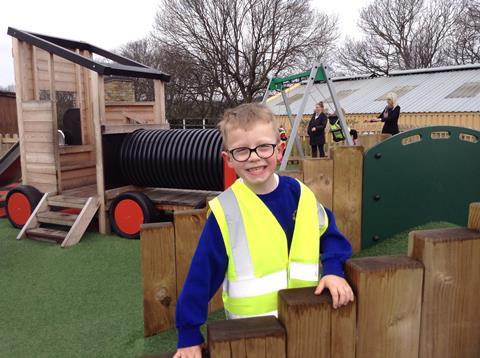 For the past nine years I have taken my school children and my son to the Santa express at KLR for Christmas to visit Father Christmas and take part in Christmas craft activities which has been a huge success. However, I wanted to utilise this valuable resource further. Three years ago, I approached KLR and the friendly team of professionals and together we tailored a day trip to suit the needs of the children.
"The engine shed was my favourite. It was cool and I loved the smell of coal."

Pupil comment
On our recent trip this March we took our 31 reception children aged between four and five years for a magical day out at the trains. They were captivated by the steam engine, the tour of the engine shed by an experienced train driver and rides on the miniature trains. They had time on the newly installed playground and a picnic with their teachers, the fabulous parent volunteers and their class friends too. There were lots of opportunities for the children to ask questions, and help clean and maintain the steam engine, and the engine drivers really pitched the talk to the children's needs and age stage development.
This magical day at the railway brings alive the role of the engine driver which is something I can't replicate within the classroom. Therefore it is a valuable resource when teaching all about people who help us.
"I loved the playground and running through the tunnel."

Pupil comment
Thank you Kirklees Light Railway, for this amazing experience and extending the children's knowledge of trains; a friendly team of professionals who catered for all our needs.
Back in the classroom
We very much follow a continuous provision model in early years when we return to the classroom, providing learning areas in which the children can access independently. We then enhance the provision related to the topic:
We created a role play area inside in the form of a train station with a ticket office where children can become the ticket inspector, make bookings and answer the telephone and input data onto the computer.
We also created a miniature train to act out stories.
The book area is used to look at train rides and make up our own train stories.
In our model area we created our own steam trains and engines looking at 3D shapes.
Outside, the children can build a train out of blocks, crates, chairs and wheels, going off on their own imaginary journeys.
The construction area has allowed the children to build their own train track and label their village.
We provided the children with cogs and wheels in the investigation area to explore further how these work within an engine.
In Maths we made links to 3D shapes and we looked at the workings of a steam engine in depth. We have games and jigsaws linked to the train available for the children to develop their social, communication and listening skills further.
In the writing area the children are taught how to fill in a booking form or a lost and found item form.